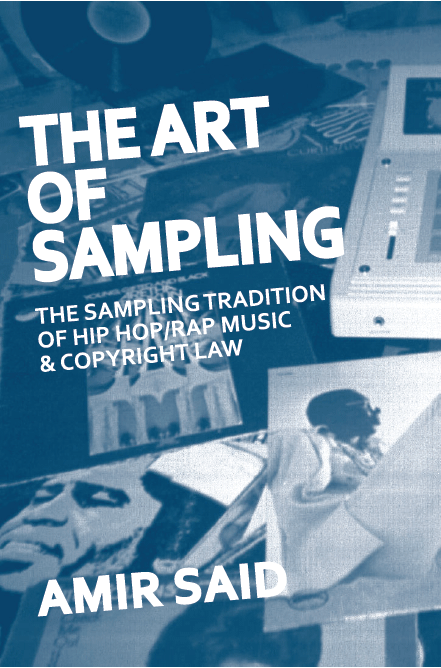 The Art of Sampling
The Sampling Tradition of Hip Hop/Rap Music and Copyright Law
by Amir Said

The art of sampling — one of the most innovative music processes to emerge in the late-twentieth century — stands today as both a celebrated art form and a cultural activity within the hip hop/rap music tradition and beyond. The Art of Sampling by Amir Said (author of The BeatTips Manual), examines this complex and controversial music process, and brings forth a study that illuminates its history, creative mechanics, and philosophy, while also exploring the implications that it holds for copyright law.
As one of the world's most explosive music techniques, the art of sampling contains a number of unique methods and practices, each potentially more complex and challenging than the other. Through a highly detailed analysis of the origins and key aesthetics of the art of sampling, as well as a thorough examination of United States copyright law and policy and the most pivotal copyright court cases involving sampling, Said offers an unmatched level of instruction and insight and breaks down the complexity of sampling, erasing all of the myth and mystery surrounding it.
Divided into three primary parts, including an in-depth History part, a robust Instruction part, and a highly comprehensive and accessible Copyright Law part, The Art of Sampling is sharply informative, engaging, eye-opening, and timely. Truly the most comprehensive exploration of sampling in the hip hop/rap music tradition and copyright law ever written, and one of the most striking and poignant music studies to come along in years.

Digital Version
PDF
File Size: 8 MB
Print Length: 402 pages
Publisher: Superchamp Books
ISBN: 978-0-9749704-8-6
Price: $7.99 • Download Available Instantly


Print Version (Hard Copy)
Paperback: 402 Pages, 6x9 (2 lbs.)
Publisher: Superchamp Books
ISBN: 978-0974970417
List Price: $29.99
Sale: $24.99
In stock
U.S. S&H: $6.95. U.S. orders typically received within 4-7 business days.
International S&H: $23.95. International Orders typically received within 7-10 business days. CANNOT SEND TO INTERNATIONAL P.O. BOX ADDRESSES